It hit me somewhere along the right side of the 11th fairway on a very specific Saturday afternoon at Riviera Country Club.
We were walking the same ground, tucked below the mansions of the Pacific Palisades, on a perfect southern California day – just as we had exactly three years ago to the day.
Much like that previous week, this week we'd already walked side by side on a golf course, taken advantage of the area's access to great seafood for a long sushi meal, and caught up on each other's lives over a few quality cocktails and glasses of wine.
But a lot had changed in those three years.
The obvious difference from the first Saturday to this Saturday was the twist of green and white rope that separated us. The more profound difference was that one of us had made the cut at the Genesis Open on the PGA Tour a day earlier and had just finished his first hole playing alongside the #1 ranked golfer in the world.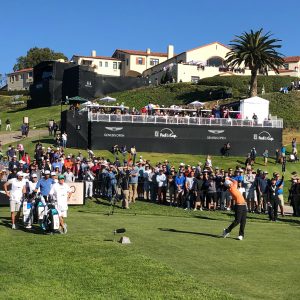 There was adrenaline pumping through me, I could feel it; there was excitement and joy, anticipation of another magical moment in a long series of moments witnessing the unfolding of remarkable dreams.
Since the first moments spending time with Talor Gooch and his dad years earlier, I had decided to believe, to share in the goals, and to pitch in where I could as those dreams unfolded.
One of those opportunities happened three years earlier when he called to invite me (maybe pressure me?) into changing my flight back to the East Coast and instead drive from Palm Springs to Los Angeles to carry his stand bag at some eGolf Tour event north of the city.
Naturally, I took him up on the offer.
I'd like to say I walked inside the ropes with him there carrying his bag and occasionally confirming the read on a putt or the direction of the wind, but there wasn't a rope to be found at Rustic Canyon. There were no fans for the players on the mini tours, guys with no status who fought to find opportunities to play and hone their game. The fact is, Talor played some great golf that day – far better than the two guys we were paired with – but unbeknownst to us there was a cut that we missed by a single stroke. Like much of the first few years after turning pro, it was another week of expenses not offset by earnings.
Stuck with flights and a hotel room, we had some tickets left at Will Call down the road at the PGA tournament underway in Los Angeles. For the first and only time in my life, Talor and I entered the gates of a tournament together as spectators. The course was great, it was cool to see some of his friends playing, but being outside the ropes was no place for him.
Over the next three years, through a meandering path across Canada, the Caribbean, South and Central America and dozens of U.S. states, Talor had progressively earned cards – and the ensuing opportunity to compete in the game he was born to play – on the Canadian Tour, the Web.com Tour and finally last fall golf's big leagues: the PGA Tour. In the process, he'd done a lot of growing up and a lot of self-improvement, he'd changed up his workout routine, his eating habits, and of course he replaced guys like me with a professional caddie to guide him not just around the course, but through the process as well.
When Talor earned that PGA Tour card, I shed a few tears of joy. And I circled one single event on the calendar – Riviera Country Club. To watch him play – no matter the result of the actual swings – a place we'd walked in some of the darker days just three years earlier, was something I refused to miss.
It never occurred to me then who he might play alongside or compete against head-to-head – it wasn't about any of them. It was just about the dream, about the goals, about the opportunity life rarely grants us to return to a place a different man, a better competitor, a more fully developed soul.
Three years ago we ate sushi at a perfectly acceptable place with a buddy of mine; this week we spent a few hours making our way through Nobu's tasting menu.
Three years ago we played with an Aussie who drove himself and his wife in a cart as he played, this week Talor went head-to-head with world #1 Dustin Johnson Saturday and world #3 Jordan Spieth on Sunday.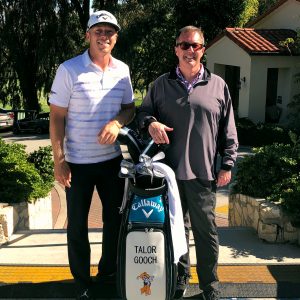 And instead of walking side by side carrying his bag, I walked the practice rounds with a camera in hand listening in on the strategy and the planning – and we both teed it up on the North Course at Los Angeles Country Club (the host of the 2023 US Open) with an amazing pair of members and two outstanding caddies.
DJ shot his best round of the week Saturday; Jordan fired his best round of the week Sunday. Thousands of people watched those two rounds of golf and the cheer for Talor's eagle on the 1st was just as loud as the one for DJ. The "Gooches" yelled out by strangers grew as the week progressed. As the final putts fell on 18 Sunday and we climbed the hill back to Riviera's clubhouse, there was no doubt Talor belonged inside the ropes with the giants of today's game.
He played his competitive golf. We ate our sushi. We explored a golf course together side by side.
But what a difference three years made.